DAILY TRUST
| | | |
| --- | --- | --- |
| Nigeria imported $5bn fuel in 2007 | | |
Written by Hamisu Muhammad
Thursday, 24 April 2008
Despite being the seventh largest crude oil exporting nation in the world, Nigeria expended more than $5 billion (N600 billion) in the importation of refined fuel products for domestic use in the year 2007, according to figures released by the Central Bank of Nigeria.
Available statistics from the Nigeria National Petroleum Corporations (NNPC) showed that this amount was expended in the importation of Premium Motor Sprit (Petrol) and Dual Purpose Kerosene (Kerosene) between January and December 2007.
The record showed that a total of 5.8 million metric tones of PMS worth $4.15 billion and 1.3 million mt of DPK worth $956 million were imported into Nigeria last year.
NNPC, which is the major supplier of refined fuel to the country, said the increase in products importation in 2007 was largely due to the drop in domestic refining.
The report said the Pipelines and Products Marketing Company (PPMC), a subsidiary of NNPC, imported 7.1million mt of different grades of petroleum products (PMS and DPK) to meet the domestic demand. "This reflects an increase of 638,332.66 mt (9.84%) over year 2006 import figure of 6,489,138 mt".
Besides spending this amount on the importation, Daily Trust also gathered that another N279 billion was expended on fuel subsidy for the year 2007 under the Petroleum Support Fund (PSF).
The Petroleum Product Pricing Regulatory Agency's (PPPRA) Executive Secretary Dr. Oluwole Oluleye said in Abuja last week that N540 billion was expended on subsidy for the years 2006 and 2007.
A breakdown of the figures for 2007 showed further that distribution by Major and Independent Petroleum Products Marketing Companies totalled 10.7 billion litres of petroleum products. "This shows a decrease of 877.66 million litres (7.55%) over the year 2006 figure (11.6 billion litres). The Major Petroleum Products Marketing Companies accounted for 7.6 billion litres (70.93%) while the Independent Petroleum Products Marketing Companies accounted for the balance of 3.1 billion litres (29.07%)".
Distribution by product shows Premium Motor Spirit (PMS) with the highest figure of 8.4 billion litres (78.29%) reflecting an average daily supply of 23.05 million litres. This was followed by Automotive Gas Oil (AGO) with a total 1.2 billion litres (11.71%) averaging 3.45 million litres per day. Household kerosene came third in the petroleum products distribution slate with 510 million litres (4.75%), giving an average daily figure of 1.4 million litres. The total figure for Aviation Turbine Kerosene (ATK) was 291.73 million litres (2.71%), averaging 0.80 million litres per day.
During the period under review, PPMC exported 1.43 billion litres of refined petroleum products. This shows a decrease of 788 million litres (35.53%) over year 2006 figure of 2.2 billion litres). "The DPK was based on Government to Government Memorandum of Understanding", the report said.
On the local refineries, the report said three local refineries received a total 18.19 billion barrels (2,485,270 mt) of crude oil in 2007. With opening stock of 3,260,721.00 barrels (444,139 mt), the total available crude oil for processing was 21,451,857.45 barrels (2,921,929 mt). "Out of this, 19,059,670.28 barrels (2,590,779 mt) of crude oil was processed into various petroleum products. This level shows a decrease of 24,385,726.72 barrels (3,311,330 mt), which is 56.13% below the quantity processed in the year 2006 (43,445,397 barrels)".
"Kaduna Refinery Petrochemical Company and Warri Refinery Petroleum Company had remained unavailable during the year due to lack of crude oil occasioned by the vandalism on the Escravos-Warri pipeline," the report added.
http://www.wtrg.com/daily/crudeoilprice.html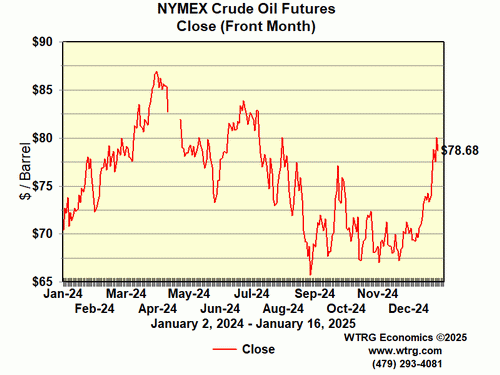 ---
---